A. Performance characteristics
1.Corrugated paper has high intensity structure ,corrosion resistant,long service life.
2.Fine percolating and absorbing wate to ensure water drip wet the wall.
3.Specific stereoscopic structre.It can provide the largest evaporation surface area for heating exchanging between weater and air.
4 Outer frame can be alternative of aluminum alloy and galvanized board.
B. Advantages
1.Structure of high strength
2.corrosion resistance
3.long service life
4.best price
C.Working principle
The cooling pad ystem is finished in the paper packing plate .There is a thin water film on the surface of corrugated fiber paper,when the dry heating air outside is crossing the paper packing plate absorbed by wind machine ,the water on the thin water film can absorb the heat of air and evaporate into steam, then the cool and humin air can enter the room after treatment
Ventilatim fan and cooling pad ,best efficient and economic temperature drop measure in summer
D. Application
The cooling pad can be used in greenhouse .poultry house,pig house.sork shop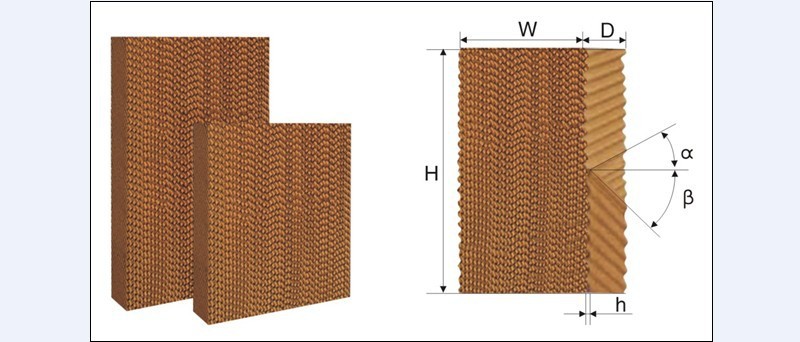 H:height W:width D:Thickness h:Flute high α :Across angle β :Across angle
| | | |
| --- | --- | --- |
| | 7060 | 7090 |
| H(mm) | 1500.1800.2000 | 1500.1800.2000 |
| W(mm) | 900.600 | 900.300.600 |
| D(mm) | 100.150 | 100.150 |
| h(mm) | 5 | 7 |
| α (*) | 45 | 45 |
| β (*) | 45 | 45 |